Mmmm... MAGEIRITSA!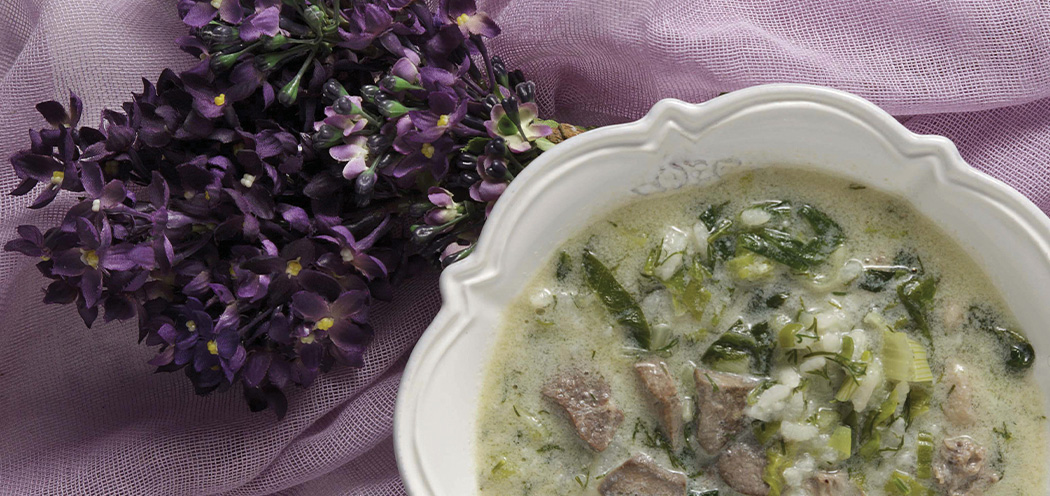 Besides Easter bunnies and candles, Easter is also about the Resurrection and the mageiritsa, of course. We have the perfect and the easiest recipe! Your house will smell from miles away.
Ingredients (4-6 servings)
1 lamb liver
Lamb intestine (chopped)
1 tea cup olive oil
6 fresh onions (chopped)
1 dry onion
2 lettuces, chopped
1 bunch chopped dill
½ cup of rice
Salt, pepper
For the egg and lemon sauce
3 big eggs, yolks and whites separated
Lemon juice from 2-3 lemons
Preparation:
Chop up all the vegetables.
Continue with the liver. Immerse it into boiling water and wait till it gets an ash color. Remove it from the pot and allow it to cool down so that you can chop it.
In another pot,  add some olive oil and saute the liver until it gets brownish. Next, we add our fresh vegetables and the dry onion that we have previously grated. Saute for 5 more minutes and then add 2.5 (approximately) water, salt and pepper.
Lower the soups' temperature after it has been boiled. Cover the pot and simmer for about 40 minutes. When the liver is soft add the rice and boil for 10 minutes mixing regularly.
For the lemon and egg sauce: Beat the eggs until they are fluffy and then add the lemon juice beating a bit more.
In another mixing bowl,  beat the egg whites into meringue and add it slowly into the yolks with a wooden spoon. Afterwards, add 3-4 tablespoons of our hot soup into the eggs and then pour the whole egg mixture in the soup and let it simmer for 2 minutes.
Serve hot and enjoy with a glass of red wine.
Happy Easter!
Tags
RECENT POSTS